NOTE held a fabulous New Product Launch Event in the beautiful Five-Star Hayfield Manor Hotel.
Note Cosmetique has just launched its new Anti-blemish BB cream and Full Bloom Lash Mascara. To celebrate, NOTE held a launch event on the 15th of September hosted by the Publicity Loft in the 5 star Hayfield Manor Hotel, Cork.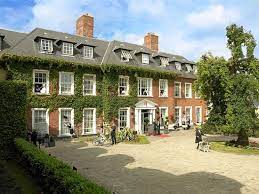 The guests were greeted with a beverage on arrival and seated. The newly launched NOTE Full Bloom Lash Mascara and Anti-blemish BB Cream were placed on the table in front of each guest. They then dined over a beautiful three-course meal.
The Irish influencers that attended the event included Niall Casey, a well-known Irish make-up artist (@niallcasey) and beauty content creators Shauna Doyle (@shaunadoyle.x), Emily Rochford (@missemilyrochford) and Ali Byrne (@ali123_) among many other popular Irish influencers.
It was a very enjoyable and successful event. We gained a lot of positive feedback on the event itself and the new NOTE Anti-blemish BB cream and Full Bloom Lash Mascara. Great online content was created with the new NOTE products following the event. The event was also published on the Cork Independent and Hi Style Ireland.
NEW NOTE Anti-blemish BB Cream
NOTE BB Cream is mutli-functional, 5 in one product that primes, corrects , hydrates, perfects and protects. Its silky formula glides on and blends flawlessly, diminishing imperfections and uneven skin tones. It has a long-lasting natural finish with SPF15 for added protection.
NEW NOTE Full Bloom Lash Mascara
NOTE Full Bloom Lash Mascara covers the lashes coat by coat to thicken them without clumping and flaking. It's classical conical shaped fiber brush enables perfect separation of each single lash for a fantastic fanned out look.
Check out NOTE's Social Media